The Philippines' deadly Christmas weekend
A fatal bus accident early Monday was the latest in a string of deadly tragedies to hit the Philippines this holiday weekend, including a typhoon and a shopping mall fire.
Typhoon Tembin: Dozens killed
The deaths come as Filipinos, many in the southern island of Mindanao, are still reeling from a weekend of lashing winds and flooding brought about by
Typhoon Tembin, known locally as Vinta
After battering the southern island of Mindanao, Tembin slammed into another set of Philippine islands late Saturday.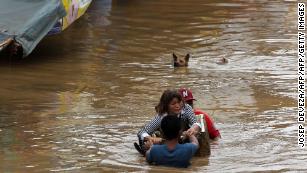 Typhoon Tembin: Flash floods, landslides kill over 100
The storm has killed at least 164 people in the Southeast Asian country, sweeping away residents and leaving communities buried in mud, authorities said Monday.
An additional 171 people are missing, Philippine National Disaster Risk Reduction and Management Council (NDRRMC) spokeswoman Mina Marasigan told a news conference.
Officials have given conflicting death tolls since the storm ravaged towns and displaced thousands. The spokeswoman said there may be higher counts elsewhere but they are still unconfirmed and unverified.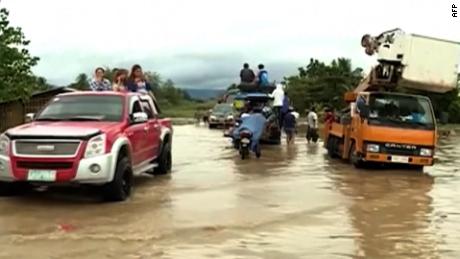 Over 20,000 families are being housed in evacuation centers, and a further 16,500 families are sheltering with relatives, according to a NDRRMC news briefing.
Search, rescue and retrieval operations have continued over the weekend and into Christmas Day, with 500 teams comprised of almost 4,000 individuals from various agencies involved.
The end of the year is an active time for storms in the Philippines. In November 2013, Typhoon Haiyan, considered by some to be among the strongest storms in recent years to make landfall, claimed over 6,000 lives.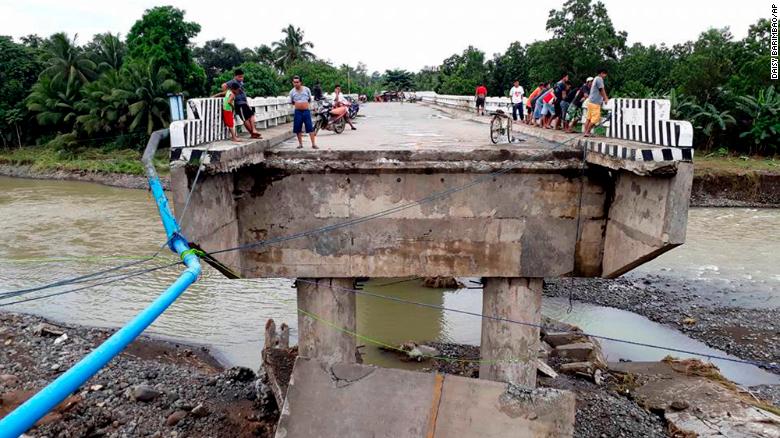 People gather on a bridge damaged by flooding from the storm Sunday in Zamboanga Del Sur in the southern Philippines.
The current storm left the Philippine Area of Responsibility (PAR) Sunday, and has made landfall in southern Vietnam. It is now a weak typhoon, with 120 km/h (75 mph) sustained winds, according to CNN meteorologist Pedram Javaheri. It is expected to continue to weaken rapidly over the region, moving into southern Cambodia and then Thailand over the next 24 hours.
Deadly fire
Elsewhere in the Philippines, 37 people died in
a shopping mall fire that broke out Saturday
in the city of Davao.
All 37 were call center agents working for Research Now Survey Sampling International (SSI), a business processing outsourcing company based in the mall, company and city officials said.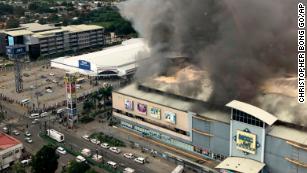 37 dead in Philippines mall fire
"This terrible tragedy has left us with heavy hearts," CEO Gary S. Laben said in a statement. "We offer our condolences and prayers to the families and loved ones of the victims."
President Rodrigo Duterte visited the relatives of the victims of the fire Sunday. The president was formerly mayor of Davao City; the current administrator is his daughter.